20 Amazing Uses of Coconut Oil
Posted on December 27, 2014 by AUTHOR (edit in theme settings) |
0 comments
Coconut oil has become increasingly popular among the health fraternity due to its many incredible benefits. You can add coconut oil to your diet to produce some incredible health results and also use it topically to improve your skin and manage a number of skin ailments that you may be suffering from. In short, coconut oil is just short of a miracle. Read on to find just how this incredible supplement can significantly increase the quality of your life.
What Is This Miracle Food Called Coconut Oil?
Coconut oil contains 92 non-hydrogenated saturated fats. This means that it does not contain hydrogen which turns the liquid fat into a solid. Coconut oil is cholesterol free unlike the saturated fats found in animal fats. It is because of its unusual compilation of short and medium chain fatty acids that coconut oil offers so many health benefits. Researchers believe that we have yet to still discover all of the health benefits that this miracle food can offer. Coconut oil is similar to other oils in that it contains the same amount of calories as they do. A tablespoon of coconut oil is worth about 117 calories and contains 12 grams of saturated fat and 14 grams of fat.
Some Important Facts About Coconut Oil
Myths abound when it comes to the pros and cons of certain foods and coconut oil is no exception. While saturated fats have their detractors, recent research has shown that saturated fats aren't half as bad for us as we have been forced to believe. The saturated fats found in coconut oil are different to those found in meat and dairy products such as cheese. These fatty acids go directly to the liver where they are quickly converted into energy. They are also converted into ketone bodies that apparently have awesome health benefits for patients suffering from conditions such as epilepsy or Alzheimer's.
Coconut oil is metabolized differently and this causes an incredibly beneficial reaction in your body when you ingest it. about fifty percent  of the fatty acids in coconut oil are called lauric acids. When you ingest this super food monolaurin ( a monoglyceride) is produced which when combined with lauric acid becomes a powerful substance that kills fungi, viruses and bacteria. This combination is known to kill of yeast infection (Candida Albicans) in human beings. It also kills the extremely dangerous pathogen Staphylococcus Aureus.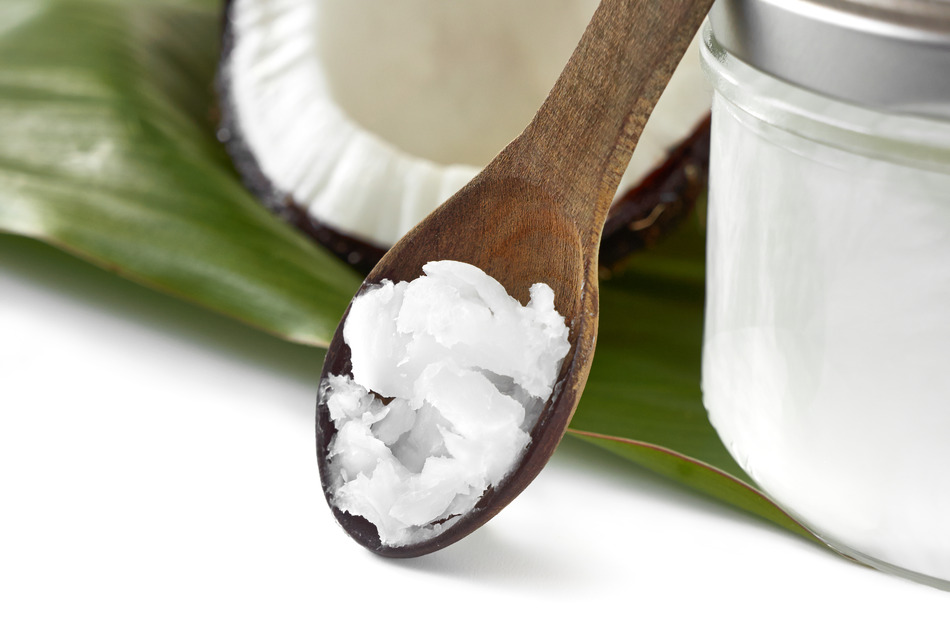 Coconut oil  helps to  suppress your appetite due to the unique way in which it is metabolised in your body. A study done on two groups of men involving taking coconut oil revealed that the group of men that took coconut oil ingested almost 260 calories less than the placebo group. If you add that up over weeks and months the reduced calories become quite significant.
How to Use Coconut Oil to Your Best Advantage
You will be amazed to discover the many different ways that coconut oil can benefit you. Here are just some of the ways that you can use coconut oil to improve the quality of your life:
Coconut oil relieves the symptoms of the common cold sore.
Mix coconut oil with shea butter to create an awesome soothing balm.

Get rid of dry, flaky elbows by massaging coconut oil on them regularly.

Use liberally to soothe the symptoms of poison ivy and chicken pox.

Eat coconut oil to improve the way your body absorbs magnesium and calcium.

Improve digestion by taking some before each meal.

Improve the mineral content in your teeth by swishing coconut oil in your mouth for 20 minutes. Do this 2-3 times a week. This is known as oil pulling. Oil pulling has incredible benefits for your gums too.

Breast feeding moms can increase milk supply and the quality of the milk by ingesting 4 tablespoons each day.

Feed coconut oil to children to improve mental alertness.

Reduce the appearance of stretch marks while you are pregnant.

Coconut oil makes for an incredible night time face moisturizer.

Minimize frizzy hair by applying coconut oil to split ends.

Reduce allergies by taking  coconut oil orally daily.

Minimize mosquito bite itching by applying coconut oil to affected areas.

Boost your energy levels by taking a mixture of chia seeds and coconut oil. Do not do this at night, especially if you are a poor sleeper.

Get rid of athlete's foot and fungi by applying coconut oil to affected areas.

Rub on your hands to keep them moist and supple. Great after hand washing a heavy load of dishes.

Ladies, get beautiful long nails by applying coconut oil regularly to your cuticles.

Losing hair? Massage your scalp regularly with coconut oil to improve hair growth.

Use coconut oil as a shaving preparation.

Use coconut oil in cooking - it makes delicious, crispy, healthier popcorn!
Coconut Oil Takeaway

These are just a handful of the incredible benefits that coconut oil provides. Grab some coconut oil today so that you can enjoy these and more benefits.
Sources: