Jeggings: The Full Jean + Legging Buying & Wearing Guide
Posted on December 13, 2014 by AUTHOR (edit in theme settings) |
0 comments
A couple of years ago, a new trend crept into the fashion books - Jeggings. A marriage between jeans + leggings, otherwise known as denim leggings.  Basically, jeggings are extremely skinny jeans, with either an elasticated waist or button and zipper, just like normal jeans. But the good news for those of us who don't have bodies like Jessica Alba or Kate Moss, is that they are good for any shape or size. You can even get plus size jeggings - Score!
Provided you choose the right type for your body shape, you can look as good as Beyonce in jeggings, even if you're over 30. Today, we look at some basic jegging wearing tips.
 Know Your Type
Understand your body type and wear your jeggings right. While you can get away with wearing them with shorter tops, you should be sure that it complements your body type.
Jeggings for Hourglass Shape
What it looks like:  A narrow waist with a curvier top and bottom.
How to wear jeggings:  If you're hourglass shaped, wear jeggings that enhance your shape even more. Choose a darker wash to help minimize the size of your hips and thighs, and pair it with a vibrant top. Use a chunky belt to accentuate your waist.
Jeggings for Pear Shape
What it looks like:  If you have narrow shoulders and a curvier derrière and thighs, you're a pear.
How to wear jeggings:  Invest in a pair of high-waisted jeggings to get the perfect fit. It will keep you covered while flattering your top half too. A pretty print will help draw attention to your face and upper body, while higher heels will help elongate your leg line.
Jeggings for Apple Shape
What it looks like: Apple shaped women carry more weight at the top than at the bottom. Worn properly, jeggings can help enhance your legs while concealing the upper body.
How to wear jeggings: Invest in cropped jeggings, which you can wear with peep-toe booties. Wear it with a flowy tunic in a darker, neutral color. This will slim your body down and look fantastic!
Jeggings for Linear Shape
What it looks like: If you have a few curves on your long and slender body, you are linear shaped.
How to wear jeggings: Gray jeggings, worn with a long tunic will look good on you. Layer it with a long jacket, which will help to create the illusion of curves. For shoes, opt for pretty ballet flats which will draw attention to your height and long legs.
Seek Comfort
Jeggings are pretty forgiving. The zipper-and-button types with waistbands are particularly handy, as they help to create a waistline. However, don't follow a fashion trend unless you're comfortable in it.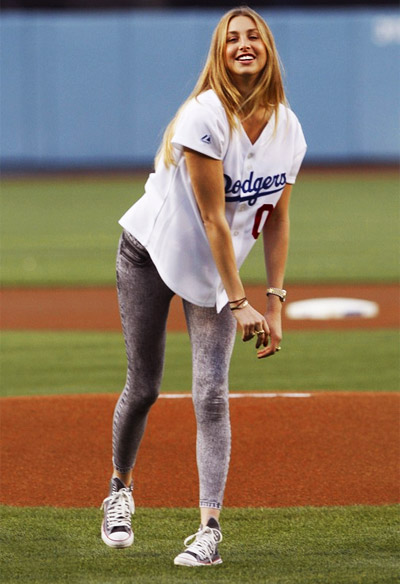 Try Before You Buy
Always try on plus size jeggings before you buy it for the first time. Try standing, sitting and bending in them to ensure you will be comfortable at all times.
Jeggings are so versatile - even more so than jeans or leggings. You can wear them with a variety of jackets, blazers, t-shirts, and long pretty tops.
As for shoes, you can either wear them with pretty strappy sandals, ballet flats, boots or high-heeled pumps, like our model does in this image. 
Jeggings Do's and Don'ts
As with any other type of fashion leggings, there are do's and don'ts when it comes to wearing jeggings. Let's take a look.
Jeggings Washes & Styles
Opt for a thicker fabric and a darker wash to create a more flattering look.
Show off your sexy, long and shapely legs with a pair of light wash jeggings and hot heels.
Darker jeggings with a flowy, bright top will draw the attention away from your legs, while light-wash jeggings with a darker top will focus the attention on your legs.
Jeggings Lengths
Avoid that awkward skin gap by wearing shorter jeggings with sandals or ballet pumps, rather than heels. The added height will draw too much attention to the skin gap.
In winter, tuck your jeggings into boots.
When you wear long jeggings, they can be worn with shorter tops, as it will look like jeans.
For a modern, glam look, wear your longer jeggings with heels or sandals.
Wearing Jeggings Like Jeans
Pockets help to add structure to jeggings, so, if you're wearing pocketless jeggings, be sure that your top covers your hipbone, otherwise it will look like tights.
Rock the clean, classic look by tucking a crisp white button-up shirt into high-waisted jeggings.
What's your favorite jegging styling idea? We'd love to hear all about it!
Do you own and wear jeggings? What are your best jegging tips? Check out our Pinterest board for some more jegging inspiration.